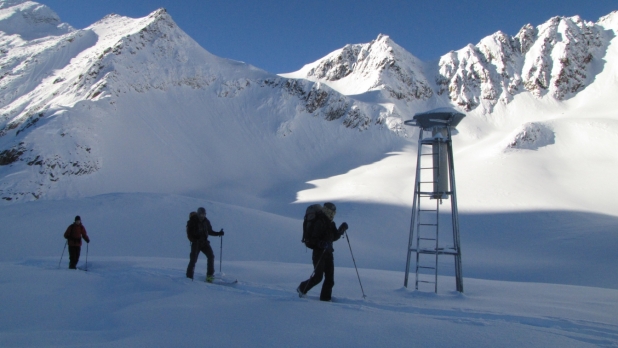 Planning a New Year's Eve at splitboard was not an easy task – was necessary to find a chat with a capacity proportionate to the importance of data events, preferably away from civilization, providing easy terrain for beginners who participated, and at the same time with plenty of snow, that is sufficient altitude.
V sedum ráno nabírám Póla za hluboké tmy na Pankráci a o 10 min později Buriho na Smíchovské Agipce. U Mnichova ztrácíme několik hodin v zácpě, ve které také padá finální volba na Taschach. V 15.30 jsme na parkovišti u lanovek a v 16.15 vyrážíme údolím vstříc nočnímu dobrodužství. Během příštích sedmi hodin děláme pouze jednu významnější navigační chybu – do vrcholového hřbene, na kterém trůní chata nastupujeme zleva místo traverzem zprava pod skalami. Tím se dostáváme do strmého a málo zasněženého suťoviska, jehož průstup je skutečný boj – Pól láme jeden stoupací hřeben, já oba ztrácím a úspěšně nalézám. Po výstupu do sedla naše váhání přerušuje svit čelovek z chaty položené o 100 metrů výše. Dorážíme kolem půlnoci. Vytopená kuchyň je plná nepořádku, po stolech se válí vše od kartáčků přes náramkové hodinky až po helmy. Vypadá to, že na chatě je skupina asi sedmi Čechů. Jdeme spát do studeného lágru v horním patře. Vstáváme pozdě, venku sněží. Chata je prázdná a spodní místnost vyklizená. Vaříme, odpočíváme, cvičíme hledání s novými pípáky. Večer doráží pět Čechů z toho dva na sněžnicích, s prknem na zádech. Nejsou ze svého zážitku příliš nadšeni, další dny tráví v blízkosti chaty, neboť strmější svahy jsou pro sněžnice i se šlápnutou stopou prakticky nedostupné.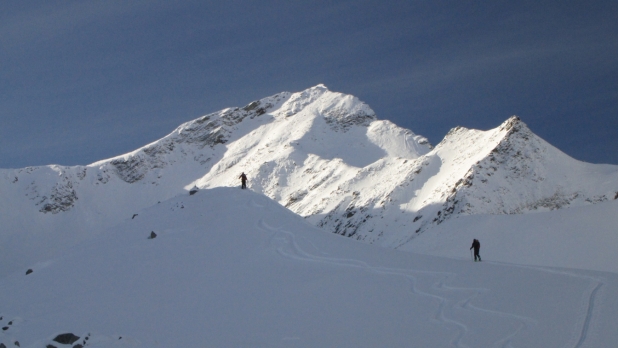 The next day is finally azuro, we head to the southern slopes connected to the outermost end of our valley. After a long, but quite pleasant shady traverse in fresh snow finally starting to climb in the sun. Buri kicking a sample profile shows several tests consistency of snow. The upper 30 cm of powder (fist) is thin crust, beneath which is another 40 cm of snow a little slehlého (4 fingers). Deeper is utemovaná layer (wand). The layers are weakly connected, deciding not to exceed 30 ° slope.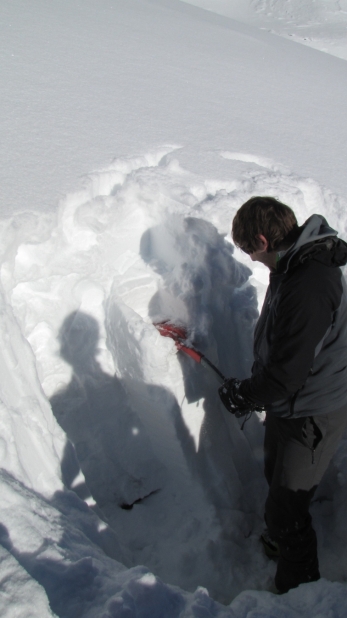 The pole rises boldly sunny valley below, maintain the spacing of around 20m. – high time to turn back.
The third day is again Azure. We go right this time a shallow valley bottom to the nearest lateral branch. The spring sun again bikini, pole postponed Moira shows muscles.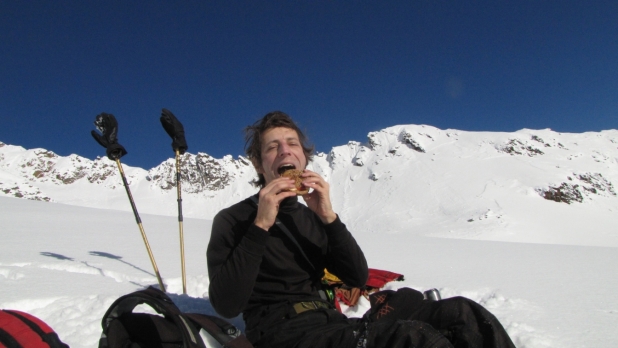 The highest point we reach the saddle again – rise to around 40 ° plate covered with a layer of powder, all on a concrete command to retreat. Exits are even more amazing this time – Pole manage to connect on a steep slope on the opposite side of the ridge of our ascent route.
New Year's Eve we spent quite peacefully, dopíjím half a bottle of apricot brandy, for which my body will reward hemlock morning. On the first outing of the season, we're fairly self-realization, and so we set off on the descent.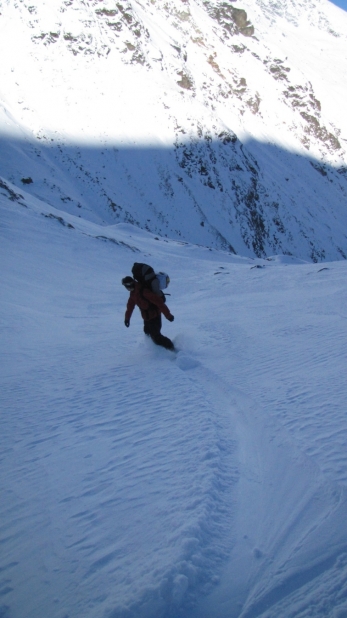 I'm trying to go down a steeper slope with shallow hidden rocks. …